Van Long Wetland Nature Reserve
Halong Bay of the inland. Natural habitat of the very rare Delacour's langur.

The relatively outlying and touristic hardly visited Van Long Wetland Nature Reserve is located 80 km south of Hanoi and is almost something like the Halong-Bay of the inland.
Great limestones rise ruggedly from the surrounding wetland. Partly they are flowed round by water.
But not only scenic is the small nature reserve delightful. It also hosts a very rich biodiversity, including many species which are listed in the V. Red Data Book of Vietnam.
Particularly must be mentioned the Delacour's langur (Trachypithecus delacouri), a very rare endemic Vietnamese primate species.
Van Long Nature Reserve constitutes the most important biotope for this to the 25 world's most endangered primates belonging langur.
Nowhere else are to find worldwide more individuals of this species. Groups of Delacour's langurs which are living on the mountain ranges named Dong Quyen – Hoang Quyen are most common seen.
This mountain range can be conveniently circuited by a bamboo boat.
Van Long achieved financial support from the Frankfurter Zoologische Gesellschaft.
Location, topography and climate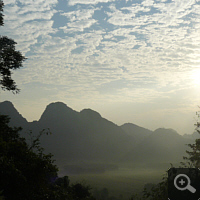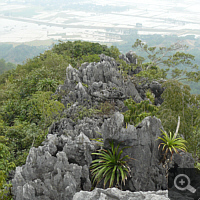 Van Long Nature Reserve is located in the northern part of Gia Vien district, Ninh Binh Province, 82 km from Hanoi away. It lies in the lowland of the Day and Hoang Long rivers and is the greatest in-land wetland in the Red River Basin.
Dominated is the nature reserve by limestone hills, which are surrounded by marshes. In the limestone hills are numerous caves, collapsed holes and karst funnels. All in all it has 2.736 hectares, rocky terrain amounts to ¾ to the area, the remaining ¼ is wetland.
The climate is strongly seasonal with cold, arid winters and a rainy saison from April to October. Thus is best travel time March/April or September/October.
Excursion possibilities, arrival and accommodation
Excursion possibilities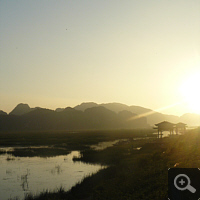 In Van Long Nature Reserve you have only a few options for survey.
Anyhow you should do a bamboo boat trip. There exist two tours. To the right it goes to a grotto, to the left you go around a limestone slope. There are Delacour's langurs to observe regularly, but with certainty you will see many waterfowls. Talk with your boatsman, for a little tip you can combine both tours too. Prices for the boat trip have Third World-level: 60.000 Dong (~ 2,00 €) fot the boat plus 15.000 Dong (~ 0,50 €) per person.
Furthermore you can rent a bike in Emeralda Resort or from the villagers and explore the wetland on cart tracks and dikes.
Arrival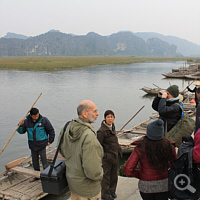 Take the bus Hanoi – Nho Quan (You find further information on my site 'Endangered monkeys of Vietnam' under the topic 'Cuc Phuong National Park') and get off at the Gia Van People's committee. Then walk to the Van Long tourism office (etwa 1,5 km). This is located between pier and the Resort Van Long.
Accommodation
There are two hotels in Gia Van:
The three-star hotel Resort Van Long. Dinner is bad, service lousy and the photos on the homepage show the Resort maybe a few years ago. Reality looks different.
The five-star hotel Emeralda Resort Ninh Binh with excellent service and good dinner. The spacious, luxury complex merges into with the wetlands environment very well.
Until now 132 insect, 14 snake, 7 frog, 4 turtle, 100 bird, 39 mammal and 54 fish species were proven.

Here you find a short, unassuming sample of rare animals, which are proven so far in Van Long Wetland Nature Reserve:

Asiatic Black Bear (Ursus thibetanus)
Banded Krait (Bungarus fasciatus)
Bangana lemassoni [fish]
Binturong (Arctictis binturong)
Chinese Cobra (Naja atra)
Chinese Pangolin (Manis pentadactyla)
Clouded Leopard (Neofelis nebulosa)
Common Otter (Lutra lutra)
Delacour's Langur (Trachypithecus delacouri)
Indian Short-eared Fruit Bat (Cynopterus sphinx)
Indochinese Ratsnake (Ptyas korros)
Mainland Serrow (Capricornis milneedwardsii)
Moellendorff's Ratsnake (Elaphe moellendorffi)
Oriental Ratsnake (Ptyas mucosus)
Owston's Civet (Chrotogale owstoni)
Silver Pheasant (Lophura nycthemera)
Slow Loris (Nycticebus sp.)
Stump-tailed Macaque (Macaca arctoides)
Water Monitor (Varanus salvator)
Van Long Nature Reserve shows a rich flora because of a diverse topography with dry limestone rocks and a wetland in front. Until now were described 687 plant species, among 35 aquatic plant species. These belong to 451 genera and 144 families.
A short, exemplary list of local plant inventory:
Trees

Barringtonia acutangula
Bischofia trifoliata
Bomba ceiba
Burretiodendron tonkinense
Diospyros decandra
Dracontomelon duperreanum
Ficus racemosa
Ficus religiosa
Lithocarpus cornea
Mallotus philippensis
Millettia ichthyochtona
Oroxylum indicum
Peltophorum tonkinensis
Vitex parviflora

Bushes & Scrub trees

Ardisia manillata
Ficus heterophylla
Grewia paniculata
Mallotus barbatus
Sida rhombifolia
Streblus asper
Streblus ilicifolius

Fern

Diplazium esculentum (Psilophyta)