Service Tree (Sorbus domestica)
Have you ever seen a Service Tree? Not as yet? Then you are not in minority. Unfortunately this indigenous wood is nowadays mostly forgotten and that, although it was 'German tree of the year' 1993. In Germany still exist circa 1.000 older Service Tree specimens, which can grow up in solitary position to imposing plants. On the one hand Service Trees have the hardest wood of all in Germany native trees, on the other hand a full grown Service Tree produces up to one ton of fruits. This 2 to 3 centimetres long fruits look like miniature apples and have still a certain importance in Hesse. Regional wine press houses add to the apple wine in small quantities unripe Service Tree fruits to clarify and to improve aromatically the wine. Service Trees have pinnate leaves and bespeak thus their membership to the genus Sorbus. Relatives are the rare Chequers Tree and the much better known European Rowan.
Primary of Mediterranean origin the Service Tree, a member of the Rose family (Rosaceae), was established in Germany by the Romans. Thus it is an archaeophyte. You can find older Service Trees mostly as solitary trees, in old age it reaches a height of circa 20 meters and a maximal stem diameter of one metre. The bark is oak-like, as leaves it has up to 25 cm long pinnate leaves similar to the European Rowan. In autumn it has numerous, two to three centimetres long fruits, which can be processed in overripe state to jams, chutneys or juices.
Culture is unproblematic, plant out simply a Service Tree in your garden. Hardy, no special demands on the soil. Cutting possible, best fruit tree pruning. A generative reproduction by seeds is very difficult and only something for specialists.
2010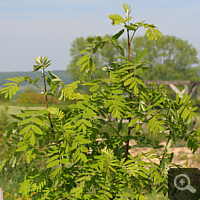 2010
In spring 2010 I bought a 1,5 m high tree and planted it in my garden. Already in the year of planting it was very fast-growing.
2011
The tree survived its first winter without any frost protection well, likewise a short late frost period in early May. Also this year the tree is very fast-growing.
2012 – 2015
Alos the following years shows the tree a very good growth. So far problems with pests or diseases were abesent completely. Likewise defied the tree the very hot and dry summer 2015.
Further information on the internet
Systematics

Order: Rosales

Family: Rosaceae

Subfamily: Spiraeoideae

Tribe: Pyreae

Subtribe: Pyrinae

Genus: Sorbus