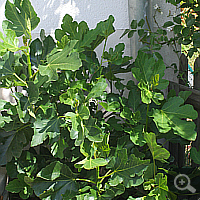 Fig trees, a member of the Mulberry family (Moraceae), are well-known because of their delicate, pear-shaped fruits. However, it is lesser-known that figs can also be cultivated bedded-out in Germany. Therefore you do not need one of the promotionally effective marketed hardy sorts. The differences in frost tolerance of the several sorts are only marginal. The fig originates in Asia Minor and is common in the whole Mediterranean region nowadays.
The fig is a deciduous tree with a maximum height up to eight metres. Old trees have a wide crown, the bark is smooth and grey. The tree is fast-growing and rich-branching. The palmate leaves can reach a length of 30 centimetres and consist of three to five lobes. Native varieties of the fig possess a sophisticated flower ecology and depend on an interaction with gall wasps. Modern varities do not present anymore this flower ecology and get the final fruits without precursor fruits.
The frost hardiness of figs is -15°C, so that they can be bedded out confidently. In the case of well-rooted plants the rootstock will survive at all events. Choose a protected site to minimize a death from cold of a part of the crown. Especially suitable is a place at the house wall, best in an alcove. In addition you can increase frost hardiness by a few degrees through packing in of the crown in bamboo mats or fleece. Do not use plastics but rather breathable materials which ensure a but only air exchange. A good water sustenance of the plant is important. Because of the great leafage the evaporation is considerable. Water-lacking plants produce only small, maldeveloped fruits.
2010
After I had bedded out my bought fig in a corner close to the house in spring 2010, this plant showed a strong growth after release from the "gyve". A disadvantage of the new location is that there barely arrives rain, so that I had to water regularly the plant. Unfortunately the unique fruit suffered from water shortage, so that it was dropped down unripe in the end.
2011
Winter was well survived without any winter protection. Individual branches were frozen back a few centimetres. Due to regularly watering the fig shows a strong growth also this year.
Systematics

Order: Rosales

Family: Moraceae

Genus: Ficus
Propagation

generative

vegetative