Pomegranate (Punica granatum)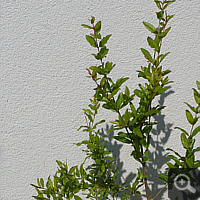 The Pomegranate tree has very aromatic, juicy fruits which reach the size of a big apple. The fruits are storable up to six months. The Pomegranate tree originates in Asia Minor and belongs to the Loosestrife family (Lythraceae).
The deciduous Pomegranate grows mostly as rich-branched bush, less frequent as little tree. The maximum height is five metres. The bark is red brown, facing, lathy leaves. Up to 8 centimetres large, bell-shaped, red blossoms, from which the harvestable fruits evolve through insect pollination within five to seven months.
The information about a bedded-out cultivation vary. Frost hardiness is declared with almost -15°C. I expect a slight winter protection is definitely required. Here, the same applies as with figs. Choose preferably a protected place in front of a house wall. Apart from that Pomegranates are unproblematic, rather slight water and nutrient demand. Rich branching, cutting is well-tolerated but not necessary. The plant sprouts numerous shoots from its rootstock.
2009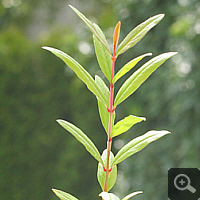 The in spring sowed seeds are germed quickly and are grown up to circa 15 cm high plantlets by the end of the year.
2010
This year I was very brave in the case of the Pomegranate tree. I have bedded-out my 2-years-old Pomegranate tree under cover of a hedge. If this should not survive winter, it is not so bad because Pomegranate trees can be really simply and quickly raised from seeds. The Pomegranate tree has thanked me its new location at least during summer. It was very fast-growing, what made especially itself felt through numerous new shoots.
2011
I immoderately overestimated the frost hardiness of Pomegranate trees. Already in December 2010 the little, bedded-out Pomegranate tree was a total loss. However, I risk an second attempt and consider thereby the experiences with my bedded-out fig. In spring I bought a circa 80 cm high specimen and bedded-out that one close to a house wall. I will apply a distinct improved winter protection in autumn.
Systematics

Order: Myrtales

Family: Lythraceae

Subfamily: Punicoideae

Genus: Punica
Propagation

generative

vegetative