Black Mulberry (Morus nigra)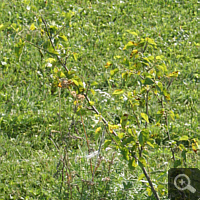 Also the Mulberry tree belongs to the forgotten fruit-bearing trees. Until the mid of the last century the Mulberry was still a frequent guest in German gardens. In former times the White Mulberry bore a meaning mainly for sericulture as forage plant. By contrast, the Black Mulberry yields the more delicious fruits. This member of the Mulberry family (Moraceae) from Western Asia is a small, deciduous tree.
The Black Mulberry grows up to a circa six metres high tree. Circa ten centimetres long, cordate leaves. Flowers appears from May to June. After a pollination by insects ripen unevenly the black, circa two centimetres long fruits. Harvest extends over several weeks in July and August.
Concerning its demands the Black Mulberry is relatively uncomplicated. Frost hardness is mentioned with -20°C. Good branching. The fruits are very juicy and only then harvested as soon as these are soft, shortly before the tree sheds the fruits. The fruits resemble blackberries, are soft, juicy and very aromatic. Choice of location is not unimportant. Older trees display a considerable fruit amount so that you do not fulfill harvest, especially as the fruits mature unevenly. So it is barely to avoid that the fruits accumulate massy under the tree, what can cause a quite "mess".
2009
The in summer 2009 planted and in winter with a rush mat protected, circa 50 centimetres high Mulberry tree survived winter very well.
2010
unfortunately it was not yet too well rooted, so that the dryness in spring bothered the tree. A real growth was to register only since the rainy summer.
2011
Winter was again well survived without any protection. A late frost period in early May after a very warm April carried off the first budding. A short time later followed a new budding. Since then the tree suffers from a continuing drought.
You can purchase seeds on this website
of Amazon.
Systematics

Order: Rosales

Family: Rosaceae

Subfamily: Spiraeoideae

Tribe: Amygdaleae

Genus: Prunus