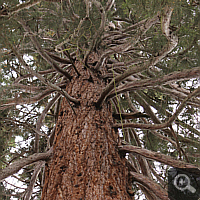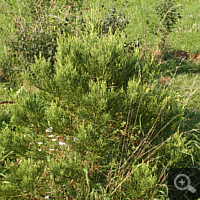 The natural distribution of the Giant Sequoia is only a small area in California in the region of the Sierra Nevada western slopes. Because there predominates snowy winter, the tree is also in Germany completely hardy. By volume, the Giant Sequoia is considered as the greatest on earth ever existing tree. Already the height of the tree is with almost 100 metres imposing and is only outreached by the Coastal Sequoia (Sequoia sempervirens). Both monotypic genera belong to the Cypress family (Cupressaceae). However, I find trunk circumference substantially more impressive than height. This is in the case of older exemplars over 30 m at a diameter of circa 9 metres. Giant Sequoias are getting very old (up to 3000 years) and should have a growth period of circa 500 years. In the first 100 years a Giant Sequoia grows up to a height of circa 30 m, so that it fits doubtless in each great garden.
Characteristical for the Giant Sequoia is the deep, reddish bark, extremely short needles, which cover the branch rather squamous, and the only a few centimetres great cones with tiny seeds. First the Giant Sequoia is growing rather slimly, later pyramidally. Only in old age the Giant Sequoia shows its maverick, typical growth, which came about amongst other things by the influences of forest fires, storms and lightning strikes in the course of centuries.
Today the Giant Sequoia is in Germany in numerous tree nurseries and market gardens available. You plant it in sunny to half-shady location, an occasionally fertilisation with a conifers fertilizer gets the Giant Sequoia well. A pruning is not necessary, nor a winter protection.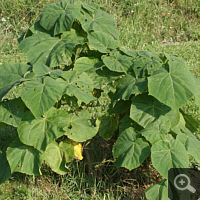 The Empress Tree come from Central China and belongs to the Empress Tree family (Paulowniaceae). The Empress Tree is a rather extraordinary rarity, as one of the very few trees it produces strikingly great and blue blossoms in spring. The single flower has a size of circa 5 cm, is campanulate and stands together in circa 40 cm large racemes, which appear still before the leaf budding in April or May. Especially in the youth Empress Trees are very fast-growing and produce up to 45 cm great, cordate leaves. Unfortunately is the Empress Tree as young plant frost-sensitive and needs a winter protection. However, young Empress Trees more than compensate in spring frost damage by their strong growth. With advancing age the tree grows slower, the leaves remain smaller and frost tolerance increases distinctly. Larger specimens are rated as fully hardy. Maximum height is circa 15 metres. You should choose as location a sunny, protected from the wind site with a nutrient-rich soil.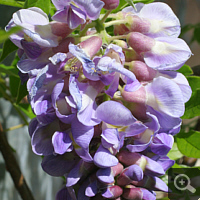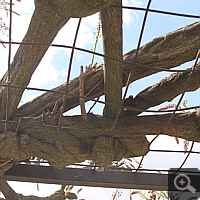 The poisonous Chinese Wisteria is a member of the Legume family (Fabaceae). The Chinese Wisteria is a woody, up to 30 m long creeper with odd-pinnate leaves and very attractive, blue racemes, which appear before leaf budding in spring. A second, less strongly blossom takes mostly place in summer.
The Chinese Wisteria is a fast-growing, beautiful facade greenery, that delights with its splendid and lavish blossom. Nevertheless is the usage of Chinese Wisterias not unproblematic, because it has a substantial potency as building stock ravager. Older plants develope undreamed-of strengths and have the ability to raise roofing tiles, to constrict downspouts or to rip climbing trellis and tensioned ropes from their moorings. Thus, the Chinese Wisteria should be kept in sufficient distance from the building stock and must be pruned annually.
To master successfully the split between delicacy and secrurity, I proceed in the following way:
Initially

Initially several, strong shoots are coiled separately around a tensioned rope. Sideshoots are periodically pruned to a length of circa 20 cm. Over time main shoots lignify and become thicker. When main shoots have reached the desired height, these are passed on horizontally.
Afterwards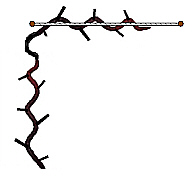 As soon as a main shoot has reached a sufficient height for a horizontal redirection, horizontal is also a tieing assistance (e.g. a tensioned rope) installed and the vertical running rope is now removed. At the horizontal guide the shoot is now tied best from below.