Jackfruit (Artocarpus heterophyllus)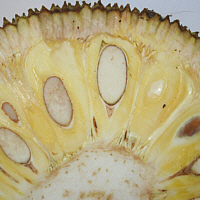 This Indian member of the Mulberry family (Moraceae) provides one of the greatest fruits, if not the greatest fruit, worldwide. The aggregate fruits can reach a length of 100 centimetres and a weight of ten kilogramms. They contain numerous seeds about the size of a chestnut.
Jackfruit trees can reach a height of 20 metres. It shows dark green, rough, up to 15 centimetres long leaves. The tree is monoecious. Male and female flowers arise just like by cacao trees direct from the stem and appear between December and February.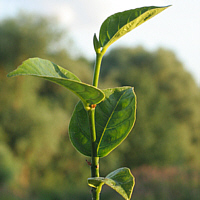 The propagation by seeds succeeds relative easily. Thereby is the main problem to get anyway undamaged and germinable seeds. Occasionally are pieces of the fruit (mostly as fruit slice) offered in Germany. However are these often unripe, the seeds only limited germinable. Clean the seeds, let them dry one day and give them after that circa four centimetres deep into good potting compost. Avoid absolutely waterlogging because otherwise the seed will decay. Under good conditions the seedling will appear after circa three weeks. The plant prefers a light, warm and as possible humid location all the year. Use an acidic soil.
In spring 2009 I got seeds in Munich, which germed almost to 100%. Here I noticed that also stronger damaged seeds germ well. You should try it with all seeds which at least are intact to more than the half.
Systematics

Order: Rosales

Family: Moraceae

Genus: Artocarpus