Kiwifruit (Actinidia deliciosa)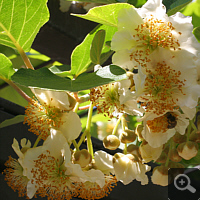 The kiwifruit originally comes from China and belongs to the Chinese Gooseberry family (Actinidiaceae). The fruits are offered in Germany already for decades. In the past, this species was rated as variety (Actinidia chinensis var. deliciosa) and first in recent years raised into species rank.
The kiwifruit is a deciduous, perennial vine, which is woody. The single shouts can reach a length of several metres. Alternate, robust, relative large leaves. The plant is diocious, i.e. it exists male and female plants. In the meantime exist partly also self-fertile varieties, which yield substantial smaller fruits thus.
The plant requires a growth support. A good location is in front of a house wall. Because of the large leaf mass high water demand. Humic, slight acidic soil. Kiwifruits are rather calcifuge. Good frost hardiness (up to -20°C). If you have enough place, plant rather male and female plants, instead of a self-fertile sort. One male for one to three female plants.
2009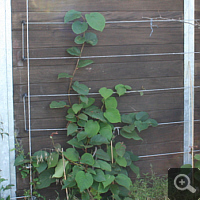 At the east wall of a barn I planted in autumn 2009 one male and one female kiwifruit each. I protected the main shoot during winter with a rush mat.
2010
Winter was excellently survived. This year first and foremost the high water demand of the kiwifruits gave me a hard fight. The site is most widely protected against rainfalls, the plants are not yet deep enough rooted to reach the water in deeper layers of earth. Despite regularly watering the plants went limp repeatedly. According to this growth was this year rather moderate, the blossoms were thrown due to a combination of water shortage and anew cold spell.
2011
Winter was well survived again (without protection). A late frost period in early May after a very warm April destroyed completely the budding. A little later both plants sprouted anew. As in the previous year both plants suffer from occasional dryness.
Systematics

Order: Ericales

Family: Actinidiaceae

Genus: Actinidia
Propagation

generative

vegetative