Date Plum Tree (Diospyrus lotus)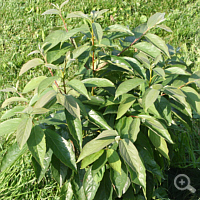 The more frost resistant Date Plum Tree is a close relative to the Japanese Persimmon. This member of the Ebony family (Ebenaceae) originates in China.
Date Plum Trees grow up to trees up to a height of 30 metres. The foliage is similar to the foliage of a Japanese Persimmon. The blue-black fruits, one to two centimetres in diameter, will ripen until autumn. The taste is mild-sweet, rather tasteless. Date Plum Trees are used for a long time as graft base for Japanese Persimmons.
Date Plum Trees are relative undemanding. The frost resistance is with -20°C good.
2010
In spring I ordered a Date Plum Tree via internet, which was unfortunately delivered not until the summer. Despite daily irrigation the specimen rooted only sparse and showd only a sparse budding.
2011
The specimen didn't survive the winter. Probable it died already in autumn. Also my Japanase Persimmon Tree was a victim of the winter. But this spring it sprout strongly from the graft base once more. Traditionally, Date Plum Trees are the graft base of Japanese Persimmon Trees.
You can purchase seeds on this website
of Amazon.
Systematics

Order: Ericales

Family: Ebenaceae

Subfamily: Ebenoideae

Genus: Diospyros